THE AREA
Hua Hin
Hua Hin town in Prachuabkirikhan province is a popular beach resort approx. 200 kilometers south of Bangkok. Hua Hin, which literally means stone head in Thai, is the oldest beach resort of the country. Clean white sand, clear water and a tranquil atmosphere has continued to attract tourists in search of peaceful and relaxing holidays.
The making of the railway station in the reign of King Rama VI (1910-1925) and a summer palace by King Rama VII in 1926 transformed a quiet fishing village into an exciting resort town, which became very popular mainly among those from high society. The famous railway station is in the form of two magnificent pavilions, one of which is exclusively used by royalties visiting Hua Hin.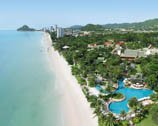 Today, Hua Hin is a well established beach destination with world-class facilities coupled with a true sense of Thai hospitality. Despite its expansive growth and development as a luxurious destination, the splendor of Hua Hin remains intact. Remaining content itself, Thailand's oldest seaside resort has never sought international recognition. It has continued to provide a peaceful and relaxed sanctuary in a picturesque environment that comes with a true sense of historical identity.
Within a short distance of Hua Hin, a few of Thailand's most well known national parks are located, the most popular being Kaeng Krachan and Sam Roi Yod. Both parks boast fabulous wildlife and nature and are easily accessible from Hua Hin. Khao Takiab - or the "monkey mountain", the summer palace in Petchaburi and the Praya Nakhorn Cave are also among the must-sees.
One of the many unique characters of Hua Hin is that its beach does not have any off shore islands to distract the panoramic view of the horizon. When the moon starts to slowly rise, the soft beam will shine directly to the beach. The best period to enjoy the romantic moon rise is during the cool season from October till March as the moon will rise just in front of Hua Hin beach. During this time the tide is also low after dark, which makes the beach a perfect place for a romantic walk.
Takiab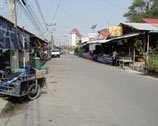 Five kilometers south of Hua Hin the small fishing village of Takiab is located. Early residents lead there lives here in their own pace, most of the community still depending on their daily catch from the sea to make a living. Some of the nicest and most well known seafood restaurants are found in this area - one of the best being Let's Sea which is located next to Woraburi Resort. Takiab is slowly progressing from being a tranquil fishing village to a modern sea side resort with four- and five star hotels and condominiums and many international restaurants. Overshadowing the small village is Khao Takiab, or "The Monkey Mountain", home to a Thai-Chinese temple, nuns and monks and a pack of more or less tame monkeys. From here you'll have a fantastic view over the Hua Hin bay area. At the foot of the mountain the local fishermen are harvesting their catch of fish, squids and crabs in the early hours of every morning.
One kilometer south of Takiab the nicest beach of the area is to be found. Even on a busy day you will spot very few visitors and you will have the waves and the sand practically for yourself. Have your lunch and your drinks in one of the small local restaurants on the beach and enjoy life.
Cha-Am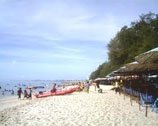 Cha-Am is another small fishing village located 25 kilometers north of Hua Hin. It has not yet grown to the resort size which its sister town has. If you want to experience the real taste of local Thai fishing culture, Cha-Am has plenty to offer in that aspect. As for its beach, it is beautiful and quiet and the sand is coarse and golden, and you will find plenty of shade underneath the pine trees that cover it.
Cha-Am has developed as a weekend beach resort for increasingly affluent Bangkokians, a quieter and more family oriented resort than Pattaya across the Gulf. Reflecting its popularity among Thais, Cha-Am emphasizes good food and drink, especially delicious sea food - prawns, fish, squid and mussels prepared simply in beach side bars and cafes or elaborately in more formal hotels and restaurants. The weekend is party time, when people visit from Bangkok.
Mid-week gives opportunity for more peaceful relaxation with lots of sandy beach which stretch to Hua Hin, dotted with deluxe and luxury resorts along the way. Cha-Am is also within easy distance of the historic city of Phetchaburi, the famous Damnoen Saduak floating market and the natural wonders of Kaeng Krachan National Park's unspoilt forest and Sam Roi Yot National Park's spectacular bird life.
HISTORY
Since the Southern Railroad was constructed, shortly after World War I, to give people opportunities to travel overland all the way to the Malaysian border, the beach of Hua Hin has enjoyed a solid reputation as "the famous seaside resort of Siam" where visitors could enjoy swimming, fishing and golfing on the country's first standard course Hua Hin Royal Golf Course (1927) during the weekends.
Hua Hin's rise came with the opening of the Railway Hotel (Hotel Sofitel Centara), after the Southern line was completed. It was an elegant Victorian structure on the shore with vast rooms, private veranda, fancy fretwork decoration and wickerwork chairs in the lounge. Soon afterwards a first complex of bungalows (Centara Sofitel Grand Resort & Villas) was built together with a Victorian-style gazebo on a scenic group of rocks near Hua Hin Village, and this place, later, was selected as a venue in the film "The Devil's Paradise", as well as the Railway Hotel, which portrayed Phnom Penh's leading hotel in the hectic days just before the city's fall in the film "Killing Fields".
Nowadays, among the developments of the world, Hua Hin's pleasures are still placid, not all that different, indeed, from those enjoyed by the aristocratic visitors of its past. That's Hua Hin - the oldest beach resort of Siam, with a sense of history and a peaceful but scenic atmosphere.
ATTRACTIONS
The Railway Station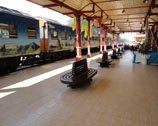 Built in the reign of Rama VI (1910-1925), this Railway Station was designed with delicate taste in the classic Hua Hin architecture style. It comprises two magnificent white pavilions, one of which is exclusi-vely used by visiting royalties. A charming and picturesque station well worth a few snap shots! And, by the way, the famous Oriental Express still runs through Hua Hin on its journey down south to reach Singapore! Check-out the time table.
Sofitel Centara Hua Hin Resort
With 13 hectares of private landscaped gardens, the resorts giant green topiaries have been artistically trimmed and shaped to add to the hotel's splendor. Sofitel Centara Hua Hin resort has a unique old-world charm that reflects how "old Siam" used to be. Considered as one of Southeast Asia's most romantic hotels, this luxurious resort offers charming colonial-era architecture with teak work furnishings of the superbly maintained guestrooms and suites, which date back to 1923.
Originally known as The Railway Hotel, the first class resort accommodated visitors to the King Rama VI´s summer palace. The location has also been used as a setting for Hollywood films; most notably the Oscar nominated "The Killing Fields".
Night Market
Open 7 days a week, the vendors are in full commerce from about 7 PM. The Night Market is a very interesting place where you can browse for souvenirs, clothing, handcrafts and all sorts. It is also a very good venue for excellent and very cheap sea food. You can find just about all kinds of dishes and it is a very good eye opener on where the locals get to meet every night! You can find yourself hovering through the market in 15 minutes or three hours depending on your interest and mood. No matter how long you've got to spend in the market you'll surely find the walk somewhat interesting.
Fishing Pier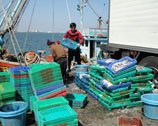 A very exciting and interesting outing is to visit the fishing pier and watch the fishermen unload their catch. It is a fine way to really taste the real root of Hua Hin as it started out as a fishing village. And you might, as a matter of fact, see your forth-coming sea food dinner arrive there at the spot. Fresher than this is hard to beat!
Temple
Many temples can be found in- and outside Hua Hin. All visitors are welcome. Just remember to follow the rules in the temple. No shoes are allowed and shorts and sleeveless T-shirts are not accepted in most. As a visitor in Thailand one should always show the same respect for traditions and personal behavior as the Thais do.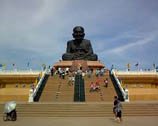 Wat Huay Mongkol
This Buddhist temple is home to the world's largest statue of Luang Phor Thuad, a legendary southern Thai monk revered for his enlighten-ment and ability to perform miracles. Many believe that the amulets created in his image guarantee safety in times of distress. The statue, set within a park-like setting that attracts many visitors each weekend, was commissioned by HM Queen Sirikit. Sitting in the meditation pose, it looms overhead once you arrive on the worship ground.
Mrigadayavan Palace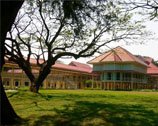 The Summer Palace is situated between Cha-Am and Pranbury. It consists of 16 buildings divided into three groups. The groups are connected with covered verandas on stilts. It was Kung Rama VI: summer residence from the completion 1923 until his death 1925. The following King built a new palace in Hua Hin, Klai Kangwon Palace ("far from worries") and Mrigadayavan Palce fell into decay until the present HMK Bhumibol (Rama IX) decided on a restoration 1983.
Kaeng Krachan National Park
Covers 2,920 sq. kilometers of sub mountain and tropical broad-leaved evergreen forest with some lowland scrub and mixed deciduous forest. The area is next to sparsely populated forests in Myanmar (Burma) with hills rising to 1.200 m. It is Thailand's largest national park and was established in 1981 with the wishes of His Majesty the King to protect the vital watershed. Though insufficient research has been done it is clear that the park offers refuge to a great variety of wildlife in some of the healthiest tracts of forest left in the country. The number of mammal species, including elephant, tiger, leopard, clouded leopard and Asiatic black bear. The park is one of the most important bird watching sites and over 250 bird species have been confirmed. Karen tribesmen, living in the park, even claim they have spotted Sumatran rhinoceros, one of Asia's shyest and rarest animals.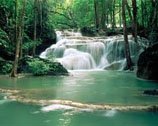 One of the park's main attractions is the Pa La-u waterfalls which cascades down 11 tiers of rocks and is an area with large numbers of resting areas. The Kaeng Krachan Dam across the Phetchaburi river, completed in 1966, has a scenic reservoir with 45 sq. kilometers of lake and islands set amidst the forest covered mountains, a place for boat trips.
Ecologically sensitive trekking, including special treks in search of birds or butterflies and rafting on the Phetchaburi river, is being promoted in a controlled manner to preserve the park. Access and the wildlife mean guides are a must and most of them are friendly, able and speaks some English.
Khao Sam Roi Yot National Park
This is one of the smallest national parks but is also one of the most important. Khao Sam Roi Yot - the mountain with 300 peaks - is a spec-tacular limestone mountain dotted with dwarf evergreen trees on the high, steep slopes and denser, mixed deciduous forest on the lower slopes.
The park is definitely a paradise for bird watchers. Some 275 bird species have been confirmed including many of the ones very rarely seen in Asia. The park headquarters has information and guides for bird watching and there are trails to hide for bird watching.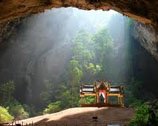 There are trails for hiking and biking along the coast and up the mountain - for superb views along the coast - and many caves in the lime-stone, including Sai And Kaew caves with large stalactites and stalagmites.
The most famous cave in the park is Tham Phraya Nakhon. The cave is named after Chao Phraya Nakhon who took refuge in the cave in a storm - he was ruler of Nakhon Sri Thammarat, on the Gulf Coast, at the time of the foundation of Bangkok. It is a huge and fascinating cave with a big hole through which a shaft of light illuminates the cave and permits the growth of various plants.
There is food and simple accommodation in the park, but it can easily be reached from Hua Hin. It is useful to remember that swamps and mud flats are short of shade but quite rich in flying insects, such as mosquitoes. Sun cream, hat or shade and insect repellent is a good idea.